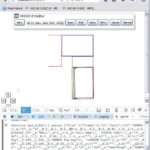 Click to view image
Added a new Object item titled cbc2di as an example corner base cabinet Object Item, into the KitCAD library system (for all versions where required). Some cabinet makers can stockpile such corner Object items or order prefabricated and use when they are required – as such there is no cutting list (two infills may be listed) and the default size is 900Wx600D X 900Wx600D. The default size should NOT be altered as for such cases will require another Object Item to be coded by the end user. Limited testing was performed at 900Wx600D X 900Wx600D and minor corrections may still be required. Some older Object Item code from the CnrBC2di Object item was recycled and modified to suit.
The example titled cbc2di was modeled from the former CnrBC2di which was created from BC2di. The example library system is not a correct representation but is instead used to teach and test function of KitCAD2, KitCAD i3 KGC and above.
The image above shows testing of the KPD format whist using KitCAD i3 KGC rX – the image shows: Red line as Rotation, Blue box/line for an Object Item, and Green box/line is a KPD Fixed Item (and used to code cbc2di).
See comments of this posting for more information and a manual download link.