Thursday, April 7th, 2016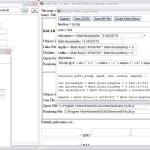 Click to view larger image
Image above – completed testing of Object Editor Menu, Script Editors, and i3 Builder (the former build_227_ul converter), for KitCAD (HTML version). The rewrite/recycle existing KitCAD code with rX codes will provide end-users with the ability to build i3 library file systems from a KitCAD 2 file base (or provided by Object Editor). The INF editors will not save and load because of the historic nature of the file formats (since deprecated, and no longer in use), the buttons are still provided for the historic 'KitCADi3ie5.exe' software application.
Because of the previous KitCAD i3 KGC versions inability to function on systems above Windows 7 (with service pack or updates) resulting in empty file saves — The rewritten Object Editor for KitCAD (this) is included after the release of KitCAD i3 KGC rX with release date of 1st May, 2016.
Deployment to off-line KitCAD i3 KGC rX windows version installs is only provided trough the Modified DCEF 3.0 interface installs (and after which is executed from the Start|Kitchen|KitCAD i3 rX|config|i3 program group). While it is possible to modify the Object Editor for online use, the Object Editor interfaces will not be uploaded as an online addition to KitCAD i3 KGC rX (or other online versions however this may change, archives are supplied if required). Deployment has been brought forward and is being rushed and as a result some bugs "do" exist.
See post Comments (Below) for more developer notes, testing, and update information.
–ARCHIVE DOWNLOAD–
The KitCADi3rX_i3foei.* Zip/7z Archives [1st May 2016] allow advanced users with full understanding of computers to manually install without using setup program (Any instruction given for extraction into C:\Program Files\Kitchen\KitCADi3\ should be ignored); Instruction for users interacting with Archive interfaces differ and are not provided by this document. Browser or end-user environment security restrictions may cause the Object Editors to fail or not work as desired. This KitCADi3rX_i3foei.* download requires no extra supporting interfaces to operate and may function as a standalone offline Web Page within a supporting environment: [Zip 663Kb][7z 340Kb]
After the Archive is extracted, the file of /i3foei/html5fm.html will allow a Web Browser to display the Object Editor HTML5 file manager, for KitCAD (HTML version) interface.